5 Signs Your Business Should Invest in a Mobile App
2018-07-24 10:00:00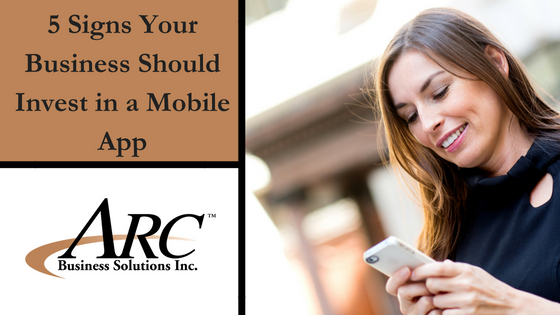 Bring accessibility and convenience to your business with a custom mobile app
In today's world, people are accustomed to accessing their entire lives via their smartphones and other devices. In fact, approximately 76 percent of Canadians own a smartphone, and more than a quarter of all Canadians say they spend at least two hours a day on their phone.
With statistics like these, it becomes increasingly obvious that our mobile devices are here to stay - so how can businesses use these trends to their advantage?
One fantastic way to capitalize on smartphone usage is to create a custom mobile app for your business.
Too often, companies rely on outdated business management software or run-of-the-mill customer experience platforms that don't address all of their unique needs. And as a result, many facets of their business are impacted.
At ARC Business Solutions, we believe that if more entrepreneurs were aware of the advantages of custom software and how affordable it can be to create your own business app, they could avoid many of the issues we see on a regular basis as an IT solutions provider.
But what are the signs that a custom mobile app is the right fit for your business? And if you do create a business app, how can you ensure that it will address your needs?
Our team has compiled the top reasons a business should invest in a custom mobile app, based on our years of experience in the IT industry, so that you can make an informed decision about this new and innovative solution.
Ready?
HERE ARE THE TOP 5 REASONS TO INVEST IN A CUSTOM APP:
YOUR EMPLOYEES ARE STILL SEARCHING THROUGH FILING CABINETS FOR PERTINENT INFORMATION
Are you still storing business reports, transactional documents, signed contracts, meeting minutes and other important paperwork the old fashioned way? If so, it's time to modernize.
Employees lose valuable time and productivity is compromised when your employees have to manually search through piles of paper to find the information they need.
Custom mobile apps for business can offer a wide range of organizational solutions to business owners and their teams, streamlining filing systems and making important documents easily-accessible from their cellular device.
YOUR EMPLOYEE TRAINING PROCESS IS PUTTING PEOPLE TO SLEEP
Let's face it - reading through a massive employee training manual can be tedious. Even the most dedicated of employees will find themselves overwhelmed by endless pages of text.
So why not enhance their learning experience with an interactive and engaging business app that is specifically designed to make studying more fun?
At ARC Business Solutions, we created many custom mobile apps that use gamification to bring excitement to the employee training process and to keep new hires motivated to learn more. Gamification allows your team members to see their achievements, complete levels, and earn rewards, all of which result in increased interest and a greater desire to learn.
MESSAGES ARE BEING LOST IN TRANSLATION
Effective internal communication is crucial for the success of any business. One of the advantages of custom software is that you can ensure that all of the communication functions your business requires are available to you and your team.
For example: Let's say your company is experiencing communication issues between two departments. One department is utilizing a file uploading system to keep track of their projects, while the other department relies primarily on email. A custom mobile app would allow you to integrate the two systems, allow both departments to transfer files in a convenient way, yet still maintain the systems that are already working in their respective units. An added bonus would be that the files would also be available on any smartphone device, allowing your employees to complete tasks on-the-go.
YOU WANT TO TAKE YOUR CUSTOMER SHOPPING EXPERIENCE TO THE NEXT LEVEL
Did you know that 62 percent of smartphone users have made a purchase online using their mobile device in the last 6 months?
And that number is only expected to grow as more and more people purchase and utilize smartphones in their day to day lives.
Hiring an app builder to create a custom mobile ecommerce application for your business is one of the surest ways to gain a leg up on your competitors and take your shopping experience to new heights.
It is predicted that by 2021, mobile e-commerce could rake in $3.5 trillion and make up almost three quarters (72.9 percent) of e-commerce sales. So, there's no better time than the present to capitalize on this trend.
YOU ARE FOCUSED ON BUILDING CUSTOMER LOYALTY
Any business expert will tell you that customer retention and appreciation should always be a top priority. But did you know that a custom mobile app is one of the most effective ways to engage your customer base?
Custom loyalty reward apps are inexpensive to implement compared to other customer appreciation methods, and help you increase sales while simultaneously gathering analytical data about your target audience.
Remember: 66 percent of companies that saw a decrease in customer loyalty over the past year do not have a mobile app.
Set yourself apart by investing in this growing trend now.
Interested in learning more about how a custom mobile app could revolutionize your business? Contact us today. One of our skilled IT professionals would be happy to discuss your available options with you.