How ARC is Making Mobile App Development More Viable for SMBs
2018-08-02 16:00:00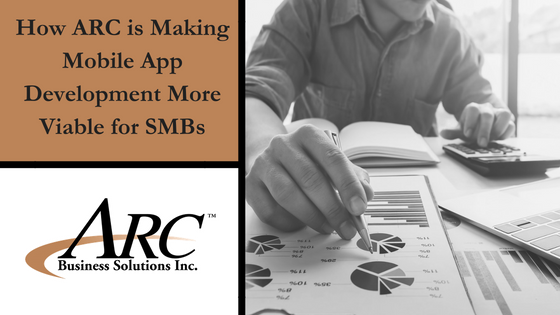 There is a common belief in the business world that mobile apps are unrealistic for small-to-medium-sized businesses (SMBs). Many business owners are under the impression that mobile app development is costly, or that introducing such a new and innovative technology solution will result in confusion and chaos amongst their employees.
It's understandable - most SMBs are so immersed in the day-to-day operations of what they do, which makes adding a mobile app into the mix a seemingly daunting task.
But you may be surprised to learn just how cost-effective and obtainable a mobile app is for your business, and how much it can help you achieve your desired outcomes.
At ARC Business Solutions, we engage in constant research and development, and specialize in software that is multi-faceted, value-driven, and tailored to help our clients meet their unique business goals.
We know that with the right approach, cross-platform software solutions can address numerous concerns for small and medium sized businesses, including (but not limited to):
Improving internal communication
Improving customer service
Task delegation
Data access and management
Brand recognition
Increasing employee engagement
Enhancing revenue channels
So, what exactly are we doing to make our mobile apps more realistic for business owners?
HERE ARE THE THREE MAJOR WAYS WE ARE MAKING MOBILE APPS FOR BUSINESS MORE VIABLE:
WE GIVE OUR CLIENTS MORE CONTROL
One of the leading concerns amongst business executives when it comes to investing in a mobile app is the fear that the platform will not serve its intended purpose, or that issues will arise with time that render the app obsolete.
At ARC Business Solutions, we combat this concern by creating each of our apps to be flexible, leaving plenty of room for personalization and content changes by the end user.
Specifically, our Reach app has a ton of built-in functionality that allows customers to pick and choose what they want in their serious game app. Whether you are looking for innovative learning pathways, immersive simulations, leaderboards, or progress reports that let users know how far along they are in their studies, we can make it happen!
Additionally, our Bid Beacon and Elections apps offer a wide-range of features that businesses can make their own by uploading their own content and incorporating their own branding.
Learn about a recent mobile app we developed that won the prestigious Ted Freedman Award for Innovation in Education here.
WE CREATE COST-EFFECTIVE APPS THAT WON'T BREAK THE BANK
Mobile app development can becoming increasingly expensive, depending on the app development company you choose and their approach to building your software.
At ARC Business Solutions, however, our mobile apps cost significantly less than our competitors, due to our cross-platform technology and single code bases.
In layman's terms? We have a mobile framework in place. We then meet with you to determine your unique requirements for a business app, and tailor our framework to function the way that you need it to.
This saves you money, preventing the need to start from scratch when constructing your app.
Also, we break down your desired features, categorizing them based on capabilities we've already built, and ones that we will need to develop. When we pitch these to you in your project proposal, we make the add-ons clear.
This allows you, the client, to view the cost associated with any features that aren't currently built into our platform and decide on your next steps.
WE DEVELOP CROSS-PLATFORM APPS FOR MAXIMUM ACCESSIBILITY
It's not unusual for mobile apps to be developed natively, in other words for specific operating systems. For example, many app developers specialize in iOS apps for Apple mobile devices, but haven't developed an Android equivalent.
This can be troublesome for small and medium sized businesses that need their app to be accessible to their employees or customers on multiple operating systems.
But when you choose ARC Business Solutions as your mobile app development company, this no longer has to be a concern.
We build software solutions that can be accessed from any web browser, computer, tablet, or mobile device, increasing your ability to gather a substantial user base.
When you factor in each of these benefits, a mobile app seems much less daunting, and more attainable for businesses of any size.
In fact, 55 percent of millennial-owned businesses have a mobile app and two-thirds of small businesses planned to have a mobile app built by the end of 2017.
At ARC Business Solutions, we're proud to be part of this growing trend in technology, and look forward to continuing to assist businesses by offering them software solutions that make sense for their budgets and goals.
INTERESTED IN LEARNING MORE ABOUT HOW A MOBILE APP COULD BENEFIT YOUR BUSINESS? CONTACT US TODAY!